Sunset Lake – Jedediah Smith Wilderness
Spring has arrived in the Tetons. With these longer days and more sunshine, my family starts looking toward the summer and our Outfitting season ahead. Preparations are extensive — organizing and evaluating all the tack, gear, as well as managing horses and training new staff in operations. Managing 50 animals and multiple humans is a busy business so focus turns to logistics and preparation as soon as possible.
Hidden Coral – South Bitch Creek   — (Charlie on Magpie)
Last year, we acquired a new camp up in the Teton Wilderness in Pendergraft Meadows. Pete took trips through the camp and also had some teams do trail clearing and camp work but this year is the first season launching official trips into that area, in addition to our permits on the west side of the Tetons. www.pendergraftoutfitters.com.
Charlie, our daughter, and I headed in for 9 days last season. She was 2 and loved every minute of this beautiful spot, which we think is perhaps one of the most gorgeous camps in WY and the US. It is a stunning 17 mile ride (or walk) in and exceptional every step of the way.
Pendergraft Camp: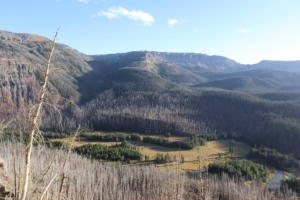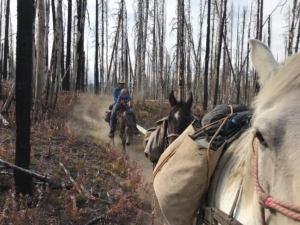 For our now 2.5 year old daughter, we just bought a 17 year old Icelandic pony so that she and I can get in and out of the camps more easily (less load for mama) in order to spend some time with papa and clients and friends throughout the summer. Pack tripping is a family/friend affair and a wonderful way to gather with your tribe and get deep into the wilderness.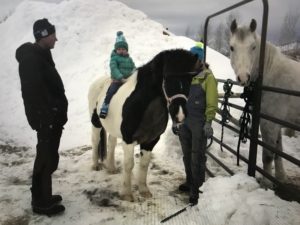 Linn Outfitters — We run both hiking assisted horse-pack trips as well as horseback riding trips. And, we offer hunting trips in the Fall to both the Darwin Ranch in the Gros Ventre and more rustic trips out to the Pendergraft Camp for two very different and exceptional hunting experiences.
Fall at the Darwin Ranch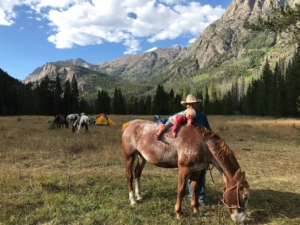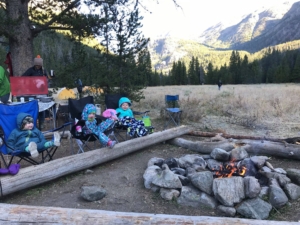 Kids Pack Trip
In the last 8 years, we have been adopting American Mustangs from the Honor Farm in Riverton, WY. We have rescued 10 to-date and they have all proven hardy, reliable, and strong in the mountain environs. They thrive in the wilderness — it's in their blood. The Honor Farm program is fantastic in that it helps rehabilitate the inmates as well as begins the training program for the wild horses. Last fall, we adopted 4, including my own horse, Bodhi (who joins Otter and Pingora), and Charlie's future horse, Gypsy. With lots of love, kindness, and good training, these animals adapt quickly to the Outfitting program.
This spring, the BLM is offering $1,000 to anyone who can adopt an untrained mustang from their holding corrals. If you have the space, the skill, and the time, it is worth it. These horses are worth and they need good homes.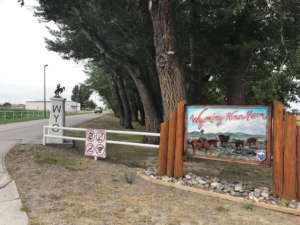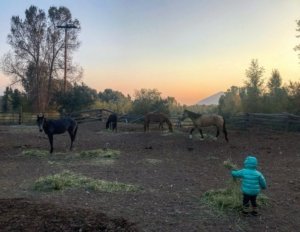 Hope you'll consider joining our family in the mountains. As a 5th generation Outfitter, we offer truly unique pack trip experiences in the Tetons and beyond. We'd love to welcome you to our Wyoming tribe!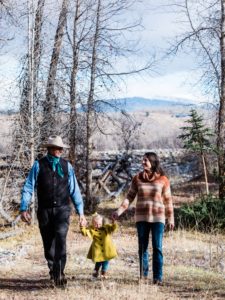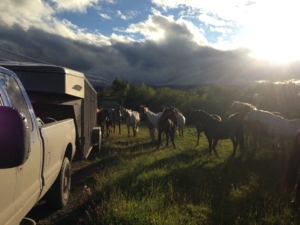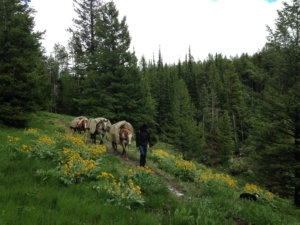 https://kimhavell.com/wp-content/uploads/2018/05/IMG_2928.jpg
1825
2738
kimhavell
https://kimhavell.com/wp-content/uploads/2018/06/KimHavell4.png
kimhavell
2019-03-19 12:08:32
2019-03-19 21:02:05
Mountains and Mustangs