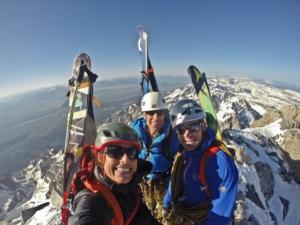 "I had an amazing opportunity to be guided by Kim to the top of the Grand Teton in early June 2014. I had already climbed the Grand by several routes but this time my desire was to ski down from the summit, which is a significant and serious undertaking. That May I had just returned from a disastrous and disappointing attempt to climb Mt Everest and was dealing with "demons" that made me question my confidence and desire to take on additional mountaineering objectives. I needed a challenge to "re-boot" my adventure psych and skiing the Grand seemed a worthy objective to help cure me of my funk and rid me of the demons.
I went with a lot of trepidation. In the prior year, I had undergone total knee replacement thus making me the first person to attempt skiing the Grand with two artificial knees. At age 61, I might also have been quite old relative to other skiers who have attempted skiing that mountain.
From the moment we met and stepped on the mountain, Kim's cheerful and ultra-positive demeanor was an instant breath of fresh air and a tremendous motivator. Over the next two day climb and ski descent her hooting and hollering of encouragement to me, not to mention exhibiting her own joy of being in such an amazing place, made me very comfortable and at ease. Her excitement was really contagious. I never felt tired primarily because she kept yelling to me how strong I was so how could I ever let her down? Stepping into my skis on top of the Grand was a little nerve racking as the exposure is tremendous but I knew I was in good hands. My concern turned to an adrenaline fueled sense of joy and adventure as we made our way down the steep slopes of the Ford Couloir and then transitioned to a roped rappel down the Stettner and Chevy Couloirs and then back again on skis to go down the "apron" to our base camp.
Kim felt more like a ski partner friend than a guide, other than the fact that her knowledge and expertise was always in play and on display. I felt like she was having as much fun as I was and not just out doing her job. That makes a huge difference when having a guided experience. I would recommend Kim for any kind of guided adventure in the mountains as she can make some of the inherent drudgery seem like the best part of the journey. Kim's combination of talent, skill, and caring positive cheerful personality are a rare package in the guiding world."
– Greg Paul, climber/skier, owner of Momentum Climbing Gyms – Ski Descent of Grand Teton, June 9 2014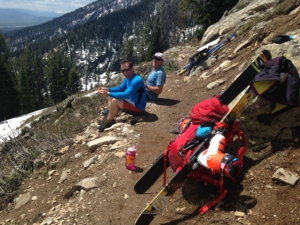 In the early hours of June 9 2014, our team of 3 headed up the Teepee Glacier to ski the Grand Teton. The guides were Brian Warren and myself, along with our client, Greg Paul. Greg had recently had a double knee replacement and, as a lifelong climber, he was savvy and strong in the mountains. After our successful mission on the tallest peak in the Tetons, Greg went on to be the first person to climb Mt Everest, the following season, with a double knee replacement.
Our trip up the Grand Teton was an exciting time for me as a guide. Since that day, there have been many moments of witnessing great successes for my clients. And, for me, there have been a lot of highlights from time in the wilderness with great people. My own personal goals, in part, were achieved as well and I looked to the future with promise.
In late 2015, my partner, Pete Linn, and I, decided that we wanted to start a family. In August 2016, our daughter, Charlie Edward Linn, arrived. She is our greatest gift in this life. With a child's arrival there comes change. I quickly realized that I was not comfortable taking on narrower risk margins while she was still so young.
But, this year, 2019, now that she's 2.5 years old, I was ready to embark on some new adventures in the mountains again. Exploration, new routes, and high mountain adventures feed my soul. With two weeks guiding in Iceland on the books with Ice Axe Expeditions and 16 incredible women, I was getting prepared to leave my family for short trips as well as enter back into the bigger realm of the Tetons and the Sierra for March and April.
My ski season was moving in that forward direction when I hit a rock/log while guiding in the Jackson Hole Mountain Resort backcountry, bringing it to an abrupt end. Since Charlie's arrival, and managing careers in both skiing and in real estate, I was really just getting back in the groove. But, when your direction suddenly shifts, all you can do is accept it with grace and positivity, and move forward with the new focus. 
I look forward to working on new projects and new goals in 2019 and aiming high for 2020, spending more time with family, friends, and clients, as well as offering the best of service and the best of adventures for everyone involved. My future posts will share some new opportunities for ski and travel in late 2019 and 2020. I'll also highlight great adventures available with Teton Outfitters as well as exciting things in the real estate realm. Standby!
https://kimhavell.com/wp-content/uploads/2019/02/SkiGuideGrand.jpg
720
960
kimhavell
https://kimhavell.com/wp-content/uploads/2018/06/KimHavell4.png
kimhavell
2019-02-22 09:30:04
2019-02-23 08:46:45
A Good Guide Season